STEEL STRAPPING TOOLS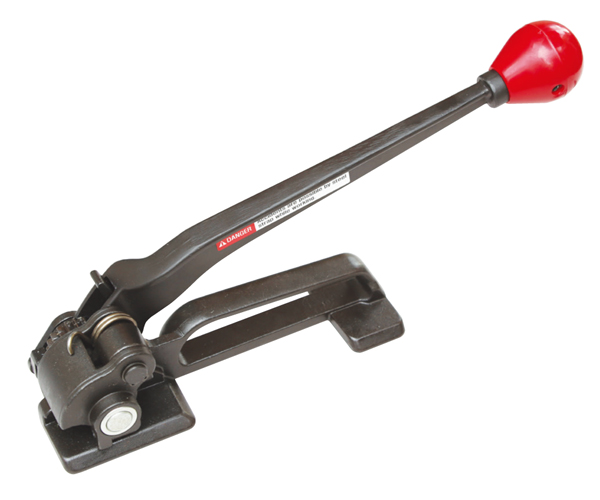 SFT:EFT-190
FEEDWHEEL TYPE TENSIONER
Features

크기가 작아 휴대하기 편리한 Rack&pinion type의 철밴드 조임기이다.
철밴드를 겹쳐 조이기 때문에 반드시 왁스코팅이 된 철밴드를 사용해야 한다. SFT-190의 Feedwheel은 열처리 된 탄소강으로 되어있으며, EFT-190의 Feedwheel은 초경합금으로 만들어진다. 주요부품인 Feedwheel과 Clutch plug는 교체하여 사용할 수 있다.
It is highly recommended the usage of a wax-coated steel strap with this tensioner as it tightens an overlapped steel strap. The feedwheel of SFT-190 is heat-treated carbon steel, while the feedwheel of EFT-190 is made of tungsten carbide. The feedwheel and clutch plug are spare parts and are replaceable.
Specifications
MODEL

SFT-190
EFT-190
DESCRIPTION

FEEDWHEEL TYPE
FEEDWHEEL TYPE
STRAP WIDTH

13mm (½″) to 19mm (¾″)
13mm (½″) to 19mm (¾″)
STRAP THICKNESS

0.4mm (0.016″) to 0.7mm (0.028″)
0.4mm (0.016″) to 0.7mm (0.028″)
STRAP FINISH

PAINTED AND WAXED
PAINTED AND WAXED
PRODUCT WEIGHT

2.20kg (4.85 lb)
2.25kg (4.96 lb)
PACKING WEIGHT

2.40kg (5.30 lb)
2.45kg (5.40 lb)